Philosophy
Our passion is to help facilitate insights for leaders and their organizations AND to help bring those insights to life. We know that insight alone will not manifest change, but will need reinforcement and support to become part of the business culture. The sole focus of CreativQuest is to help leaders build cultures of healthy high performance and innovation.
Who We Are
CreativQuest Consulting is a network of Leadership Strategists coaching and partnering to support the best outcome for clients.
Process
CreativQuest supports leaders in a continuous cultural transformation process. Rather than focusing on events and activities, our service is intended to create long term change by using the following model. The model is simple and has four phases that continually evolve: Discovery, Design, Deliver and Develop
because all things rise and fall with leadership...
The Winning Mindset by Dennis Alimena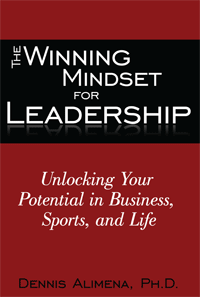 Available for purchase at iUniverse.
Click here to download the table of contents and introduction.
From The Blog
Being Ted Lasso: The Leadership Wisdom of John Wooden...
Read More